Call of Duty: Warzone 2.0 Coming with a release date set as November 16, 2022, it will also Modern Warfare 2 is preparing for the coming of the new age with the launch of Season 1 what details have emerged for both titles in question content and new Battle Pass.
The new version of Activision's free-to-play shooter will be all about new Al Mazrah mapContains 18 key points of interest to explore to intensify conflicts between players in Battle Royal or find a way to ditch them in DMZ mode. As such, the Republic of Adal city of Al Mazrah is the first setting of Call of Duty: Warzone 2.0 and has a few subsections on the subject:
Al Bagra Fort (Core Map)
Embassy (Core Map)
Zarqwa Hydroelectric (Core Map)
Taraq (both Core and Battle Map)
Sariff Bay (Battle Map)
Sa'id (Battle Map)
i will still be me special downloadsAs in the first Warzone, it gives players faster access to war gear tailored to different needs.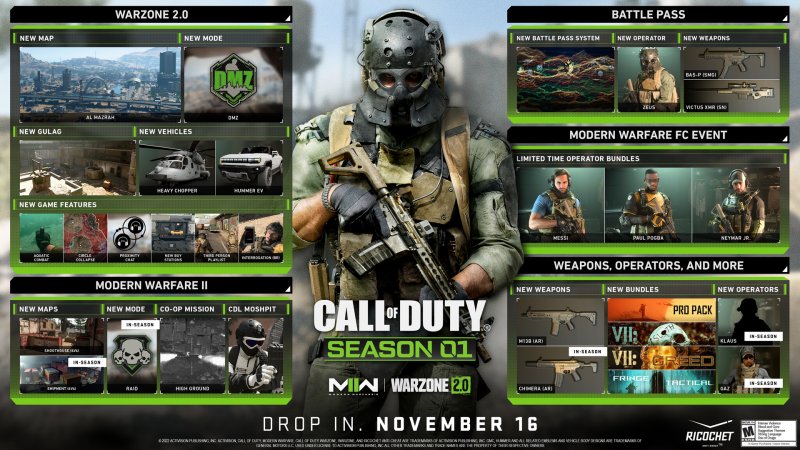 The greatest advantage is provided by the Primary Weapon, with weapons and gear that can be obtained by completing shops, special public events, or Fortresses and Black Sites.
In addition to Battle Royale, a new Backpack system is planned, fully integrated into the DMZ mode. In the second, as in the first Warzone, Supply Boxes will be available to obtain weapons and items. When a player dies, they drop theirs backpack with the primary weapon.
this gulag There are some variations with a setting that offers 2v2 fights with random teams that must coordinate to take down enemies. All players get a default gear with a Pistol or Shotgun at launch, a deadly grenade, and a tactical grenade, along with high-powered weapons and equipment placed in the middle of the map. The Gulag will also have a Jailer appearing to speed up Los during the match: defeating him will send all four prisoners straight back into Battle Royale, which can lead to players working together rather than fighting to defeat the latter. each other.
There DMZ mode is a new game option with a narrative plot that puts us inside the open world map, putting crews of operators in search of an escape route. Teams must complete a variety of faction-oriented missions, engage in side targets and fight against the enemy or AI-led Operators, as well as collect supplies, weapons and items and survive until rescued.
Other news is about the fight in water and Vehicles, with a new fuel management system. New vehicles include ATV, UTV, Hatchback, SUV, GMC Hummer EV, Cargo Truck, Light Helo (a light helicopter), Heavy Chooper (heavy helicopter), RHIB (tactical watercraft) and a heavy army Armored Partol Boat. The opening date and time of the pre-load and servers for Call of Duty: Warzone 2.0 have also been announced.
Source: Multiplayer