EA and Maxis today unveiled The Sims™ 4 Home Chef Stuff Pack, available on PC via the EA™ App, Mac® via Origin, Epic Games Store and Steam®, PlayStation®5, PlayStation®4, Xbox Series X | S and Xbox One September 28.
Read also:
Learn to create comics
62 Best Mods for The Sims 4
15 Best Apps Similar to HappyMod
Windows 10/11: how to activate without installing anything
The Complete Guide to Creating and Drawing Characters
WordPress: everything about the website builder
The Sims 4 Home Cook
If you want to have a successful career as a home cook, you need to make sure you have the right tools and workspace. In The Sims™ 4 Home Cook, you can create the perfect kitchen for your Sims and enhance the atmosphere with elegant designs inspired by European cuisine. Rely on your interior design skills using a variety of countertops and cabinets, as well as suitable appliances: oven + stove, refrigerator and dishwasher.
Any Sim can make their delicious dream come true, from aspiring chefs looking to make an impression in the kitchen to food entrepreneurs who already know how to make a profit from food. Get ready for a catalog that will help Sims earn even more Simoleons.
New household appliances, major kitchen renovation.
Small appliances can guarantee great results in the kitchen! With a mixer (note: Sims can eat cookie dough straight from the jar of prepared ingredients), a waffle iron, and a tabletop pizza oven, your Sims can invite family and/or friends over to enjoy brunch or lunch with heart-shaped waffles or an evening out . homemade pizza.
Speaking of pizza, take advantage of the modern and elegant oven and create new recipes inspired by the traditional flavors of Italy. Your Sims can become pizza experts by preparing toppings, spinning dough in the air, and sending raw pizzas to bake. Don't like pizza? Don't worry! You can try new focaccia recipes.
Leave your name and email to join our community and receive news, updates and special content.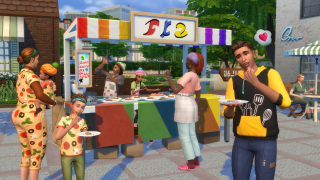 We've added so many recipes over the years that the list has become compromised. To help your Sims complete cooking missions, we've added filters to the base game update that comes with this pack, allowing you to quickly find the food you're looking for. And that's not all we've added in the base game update… Did someone say #cupcakefreedom? Now you can bake cupcakes in your own oven!

Sell ​​your culinary creations to your neighbors
How about starting your own business? Sims can own food stalls and sell items in batches while building connections with customers and tracking cooking sales results.
You can also customize the name of the food stall "Here, Now, You're in Charge" and select the type of food served. Suggestion: Recipes that use a waffle iron and a countertop pizza oven are great for selling to the public.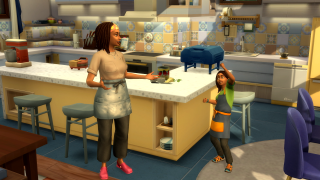 Cooking in style
No culinary adventure would be complete without the right outfit. We plan to transform Sims into real chefs with kitchen hairstyles, themed accessories and aprons for the whole family! We love the new kitchen clogs! Sabo, right?
Have fun with The Sims
The Sims is a life simulation game developed by Maxis and published by EA Games. In it you create your characters, build houses the way you want, you can get a job, have a relationship, start a family or do whatever you want. The franchise has several games and several spin-offs released for PC and various consoles such as PlayStation, Xbox, Nintendo Wii and even Sega's Mega Drive.
Express your creativity by giving your Sims distinctive looks and unique personalities, giving them personality traits and having fun with clothes and hairstyles. Easily build the perfect home for your Sims by choosing your favorite designs and decor, with more detail than ever before on mobile platforms.
Experience fun and exciting moments in your Sims' lives as they achieve career goals, pursue hobbies, develop relationships, and improve their lifestyle. Party with friends, socialize around town, attend special events, and give stickers to your favorite Sims. What stories will you tell?
Talk to us in the comments and let us know what you think of this article, and take the opportunity to read more news and articles, such as our Take the Reins review, on our site.
Source : Married Games