If you are a Netflix subscriber and want to play an original game right away on your smartphone, then Poinpy's review Considering that the work of Ojiro Fumoto, which is distributed free of charge to subscribers by the video service, is indeed very valid, it may show you a very valid solution.
For those who don't know him, Downwell is the author of the famous platform shooter game that focuses on constantly falling into a bottomless pit full of traps and quirks, which we also evaluated very well in the review. Well, in a sense Poinpy takes something from the Downwell concept and reverses it, suggesting a fundamentally opposite structure, because in this case we find ourselves constantly having to climb from platform to platform. In some ways it looks like the good old Doodle Jump as a vertical setting and based on continuous jumps going higher and higher, but the mechanism here is quite different and original.
there really isn't one History, rather a kind of "situation": Poinpy is a small jumping dinosaur who has to constantly evade a giant blue creature that occupies the lower part of the screen and needs to be appeased by constant juice. This can be obtained from the fruits found around the levels, but must be collected according to certain "recipes" that are gradually provided by the creatures and appear at the top of the screen. Actually, the point is to collect these fruits in the order in the picture, thus forcing you to jump according to some trajectory that allows you to reach the correct objects and in the correct order, is the punishment for unleashing the destructive anger of the human. blue creature that can fill the level of flames.
Slide and skip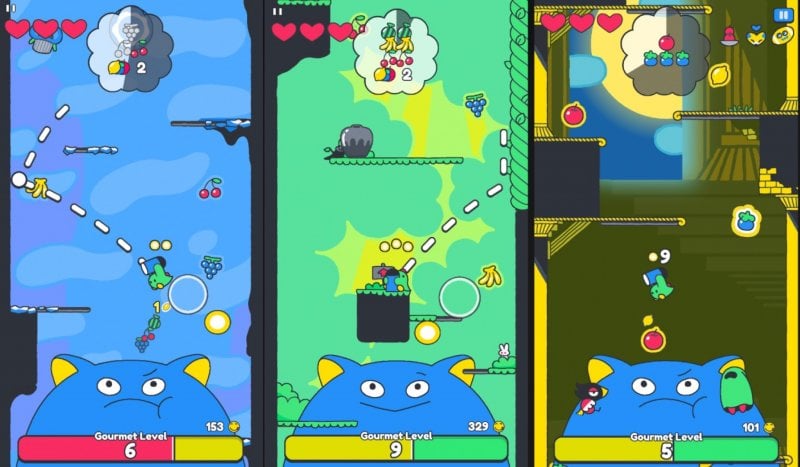 At this point, what kind of Fumoto's gameplay starting with a few and very simple elements, taking some of the "basics" of the video game and customizing them enough to create a title that looks original and fun is engaging. If Downwell is first and foremost about shooting in freefall and finding the right path, here we always find ourselves plotting trajectories, but in the opposite direction and with a completely different mechanism. In particular, playing for a few minutes makes it clear what Poinpy is built on: it's a matter of getting the classic swipe down gesture we use a thousand times a day. scroll the screen a smartphone and use it as a platform login system. In this way, an instant instinctive connection is established with the game mechanics and then refined by learning to calculate rebounds against walls, enemies and elements of the scenario, but always remain somewhat familiar.
The biggest challenge is trying to stay in the air as long as possible to reach the fruit more easily, and to do that you have to learn to take advantage of jumps against walls, enemies and objects to get "extra" pushes. . It's not a simple thing because you have very limited time windows to set the trajectory, and further levels take very little time to err, anger the blue monster, and get to the game right away.
there are also some progress Granted by unlocking power-ups that increase Poinpy's skills, increase the amount of jumps that can take turns, or gain extra lives, an interesting addition is provided by the Puzzle mode, which unlocks and introduces you as you progress through the game. Definitely a different game system.
One element that characterizes Poinpy is clearly his graphic style: also in this case we can see Downwell's search for the opposite, whose identity is strongly marked by the use of black and white. But in this case, the stylistic figure is given by a real party of colors, almost irreverently, with bright and contrasting tones, underlining a cartoon-like and stylized drawing reminiscent of a children's picture book. A real feast for the eyes, which largely compensates for a fairly repetitive and not-so-charismatic soundtrack.
professional
Instant gameplay, simple but immediately engaging and fun
Irresistible graphic characterization
Reactive and instinctive controls
AGAINST
Very simple as a mechanic, repetitive in the long run
No element of "high score" or challenge with other players
Source: Multiplayer